Christmas then and now
THEN:   Christmas was family time, a time when we would get together at our home "190" in Pietermaritzburg and have one very big celebration.  Family and friends would come from near and far to join in the festivities.
I remember how Gran, Mom and our aunts, cousins would get together in our kitchen in "190" weeks before the big day to bake Christmas cake and "doek" pudding and biscuits of all flavors, shapes and sizes.  Of course there was a lot of tasting too. "outydse soetkoekies"  and ginger biscuits were made, tins full… Oh yes and then the "Hertzogies", jam tarts and "fly pies" ( okay relax they weren't real flies  it was fruit mince. ) Not to talk about the cupcakes and big sandwich cakes with grenadella icing.   Actually I could do with some of that stuff right now.
It wasn't all about the eating, although I think that was probably the biggest thing about Christmas,  the food!  Us kids couldn't wait for Christmas Eve when the gifts were given to all, yes everybody got something.  I remember trying to peep through my parents' bedroom window to see what they were wrapping.  Can still remember the smell of a new doll. I once got a doll with reddish hair whose I used to curl by wrapping paper around the strands of hair and securing them to her head with pins..  hhehe.. good thing she was just a doll.
On Christmas Eve Dad would read us the story from the Bible and then we would sing Christmas Carols. We were a very musical family, so various instruments would be played.  There was John on the piano, Dad had the piano accordion, someone played the organ, Uncle Kitkat played the banjo, his knees jumping up and down whilst keeping time to the rhythm, someone else played the guitar and then Uncle Hopp pinched  the "saw" between his knees and played it like a fiddle,  now that was a real saw that could be used to cut wood.  Some of us had marakas and spoons, anything to make a joyful noise and then those voices, "wow" I've got goosebumps   It's a great pity that we never thought of recording those songs.
Good times!
Later years things changed somewhat specially after Dad and Gran passed away but it was still family time and we would sometimes have breakfast on the beach on Christmas morning and then go home for the very large lunch and tea and cake and spending some more fun time together.
NOW : Christmas of 2013 reminded me somewhat of those busy days running up to Christmas. Myself, the Dutchman and Poplap was in the USA to visit Thor and Little Man. Well what a reunion and a joyful time it was.  For weeks and months before we left we were shopping and planning for the big event because it was the first Christmas in 10 years that we spent with Thor and our first with Little Man.
Thor ,Poplap and the Dutchman put up the tree.  Yip it was big with lots of lights and baubles and stuff. There were many gifts too. Now under that tree there were numerous presents and I mean numerous! The kids had a ball opening them and so did we, we're kids too right?!.  There was chaos, and paper and some more paper, then came the free play, kids we dashing around the house with little man in tow but sometimes he took off and did his own thing.  Just loved this chaos, so many people all over the house, just like the times many years ago in South Africa, it did wonders for the soul!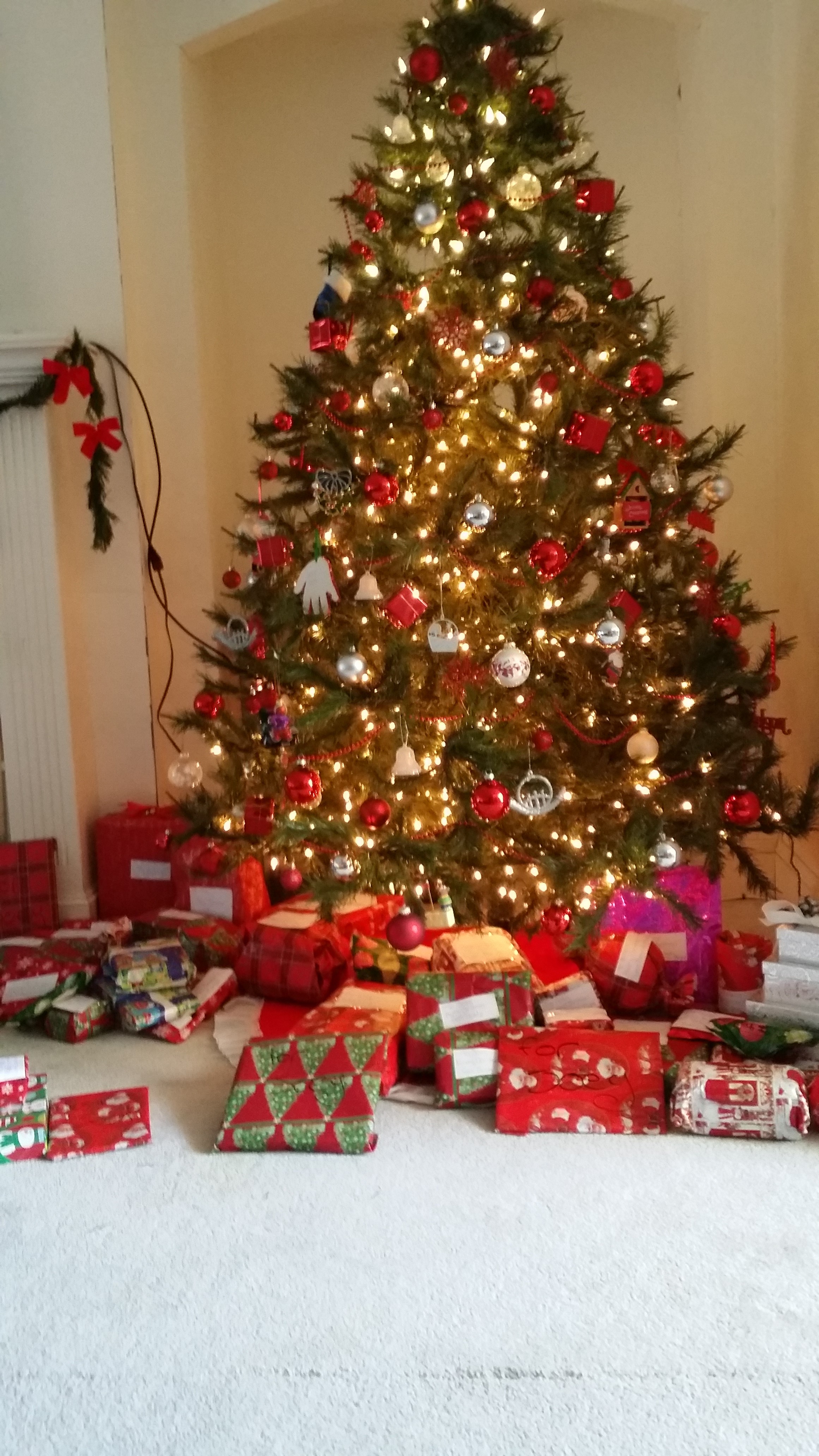 Poplap and I baked some biscuits, milk tart and some scones.  It was the first time I had to prepare a glazed ham. Man!  the thing was huge and heavy.  Got a recipe off the internet for the glaze and off we went to the shop to  get the ingredients.  It was real fun to bake this ham, and am proud to say it was a delicious success.  We had some yummy beef pot roast with sweet potato pie, special mashed potatoes and some broccoli with cheese sauce.  There was no place for pudding too much deliciously good food.
The houses in the neighborhood had lights and figures decorating their front lawns.  At night it was a beautiful sight to see.
Among the chaos and celebrations throughout the years, in our family the real reason for Christmas was never forgotten.
Before the glaze: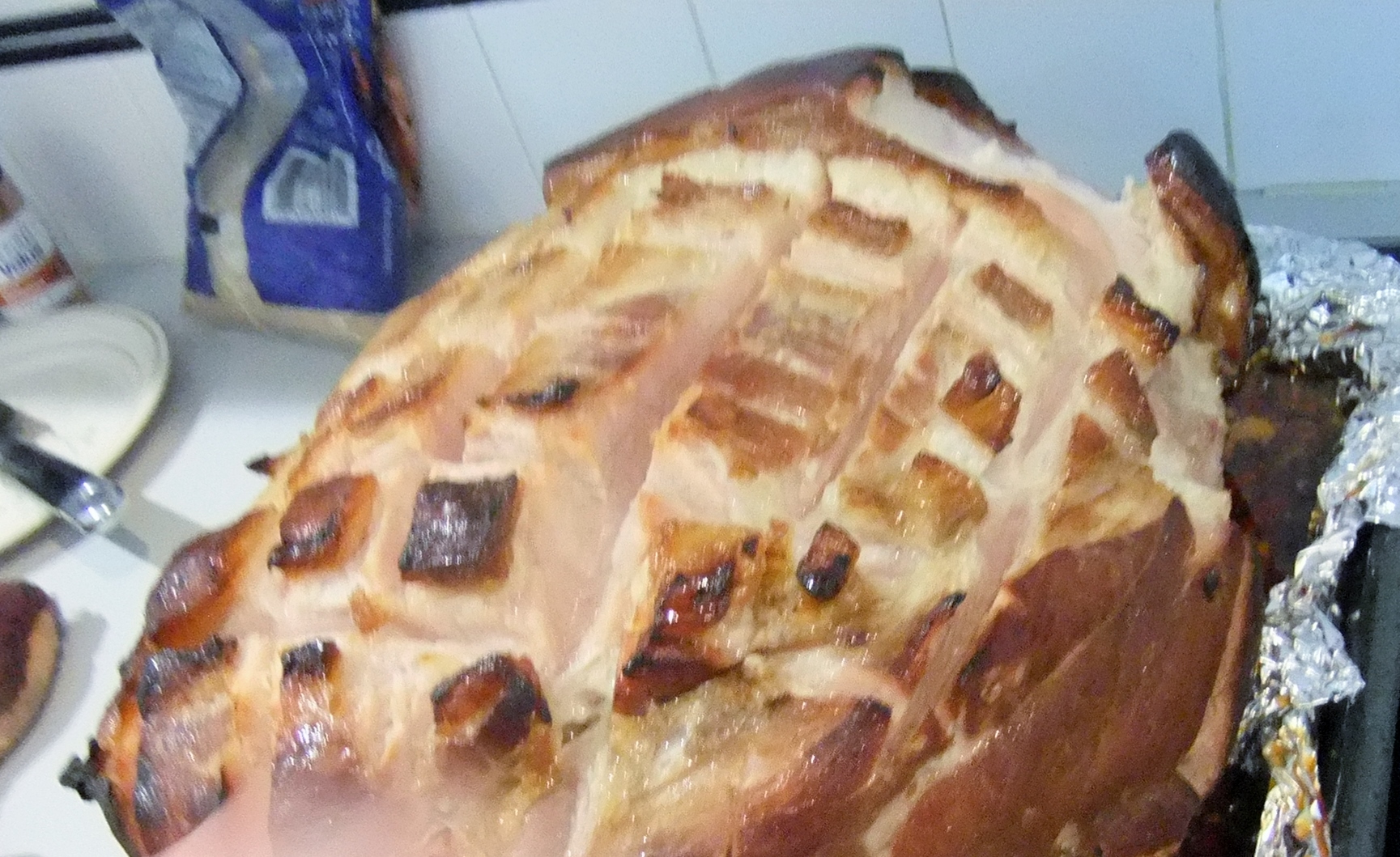 After (with glaze on ):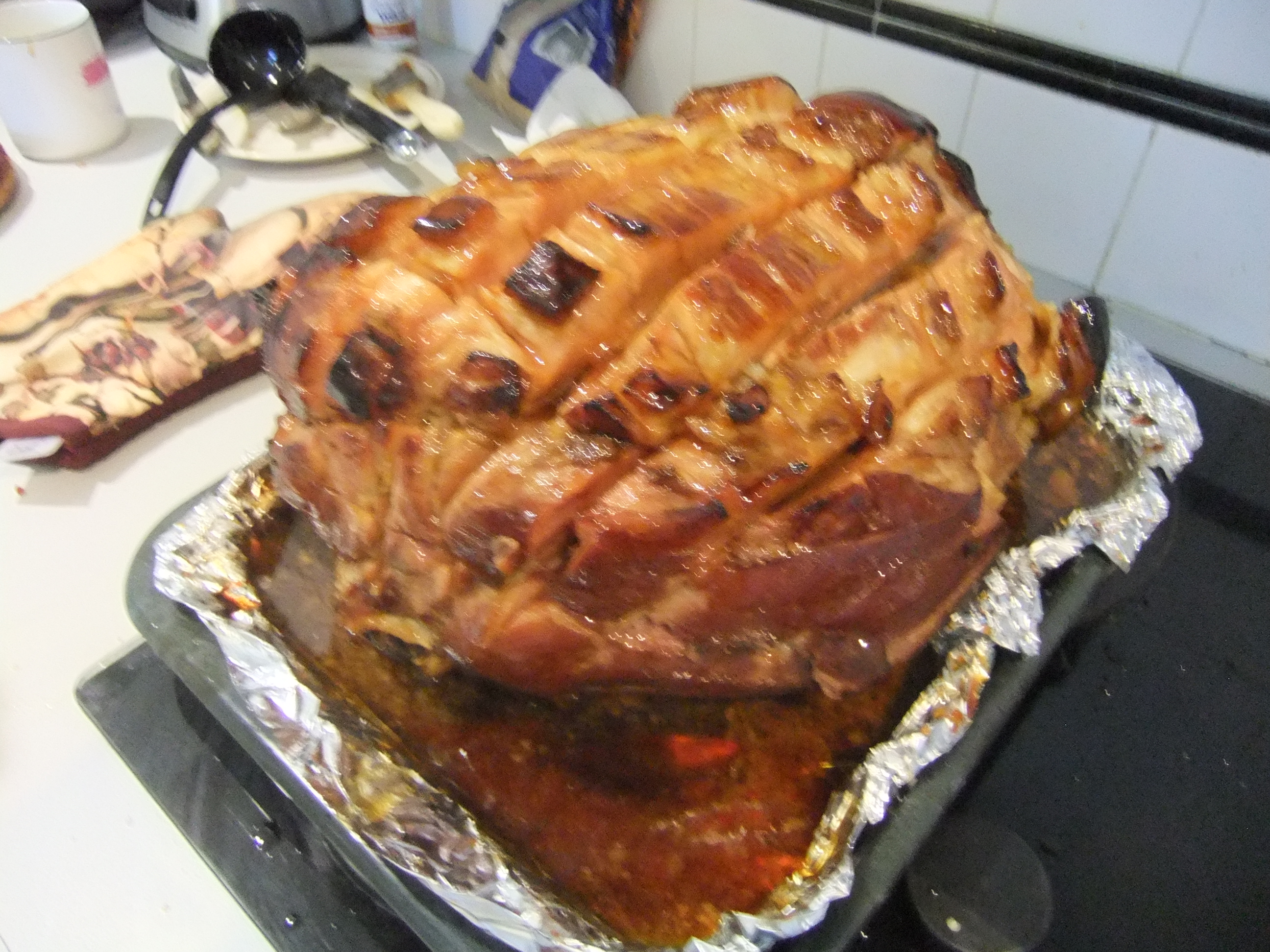 Related Posts